Lawyer Donald Kipkorir says that Kenyans do not need to be taken to a re-run if the Supreme Court does its work well. Mr Kipkorir says that there are some evidences that if the court looks into then Raila can just be declared the 5th President-elect without another election. According to the shrewd lawyer, there are obvious errors in the tallies did by the IEBC and if the Supreme Court decides to look into them then there will be no elections to be held again in two months.
He notes that the Azimio la Umoja-One Kenya coalition can ask the Court to compel IEBC to correct errors in its forms. Kipkorir believes that a look into and the correction of the evident errors can result into the declaration of Raila as the 5th President of Kenya and Ruto's election being nullified.
"Our Supreme Court has inherent jurisdiction to correct arithmetic errors without substantive hearing. If Azimio seeks the prayer of correction of arithmetic errors and demonstrate beyond peradventure that Raila won, then Raila can be declared President without fresh elections," Kipkorir has said.
Azimio la Umoja-One Kenya coalition is looking for a way in which Raila can legally get the presidency without Raila being subjected to another election. Its lawyers are working day and night to come up with a petition that will have enough evidence.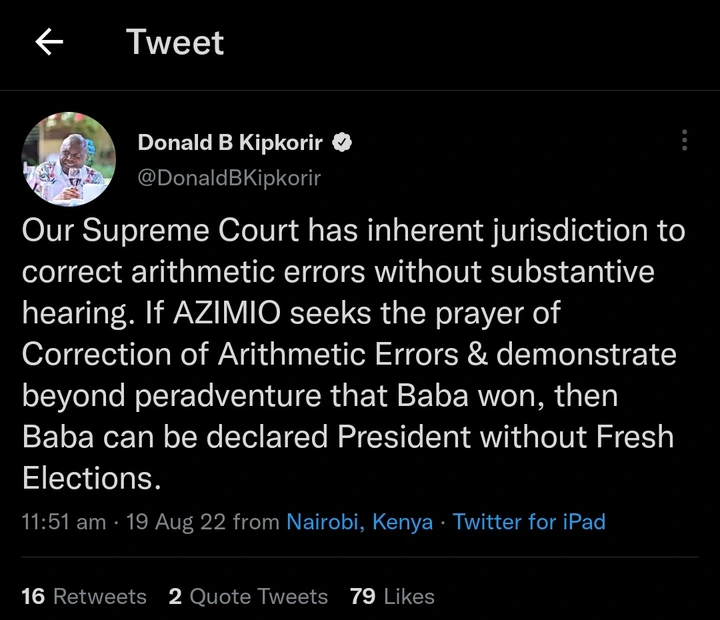 In other news, Lawyer Charles Kanjama, extremely experienced in election petitions, has predicted tough times for Azimio in the supreme Court. According to Kanjama, the burden of prove on matters illegalities of the presidential results at the supreme Court, lies squarely with Azimio. He is clear the IEBC process was so transparent that Raila has a hard case.
Here is a link: https://ntvkenya.co.ke/news/kanjama-burden-of-proof-on-rigged-election-lies-with-azimio/
According to Charles Kanjama, Azimio lawyers will have to prove illegalities of IEBC with facts and evidence. It's clear the commission is divided but again such cannot be the grounds to overturn an election.  According to Kanjama, unless the results in the polling stations are challenged Azimio case is dead on arrival. The lawyer is confident, Chebukati sealed most loopholes making it hard to challenge the presidential results.
Kanjama is confident that matters as they are, IEBC conducted free, fair and transparent elections which is hard to challenge. According to Kanjama, challenging Ruto's win at the Supreme Court might be an exercise in futility, for the evidence is not there given the elections were peaceful. He is clear results of polling stations are in the IEBC portal.