Yvette Obura is the real mum to Mueni Bahati. Before Bahati met Diana Marua, Bahati used to date Yvette Obura. The relationship between Yvette and Bahati is what made Bahati to be a dad to his first child whom he named after his Mum Mueni.
However Bahati never married Yvette and instead started a family with Diana Marua. Diana and Bahati have sired two children together. Diana is also a step mum to Bahati's other kid.
Most people envy the relationship between Diana and Bahatis' baby mama. This is because the two always seem to get along very well and make co-parenting look easy. Mueni loves Diana just like her mum and loves to spend time with her other brothers and sisters during holidays. Mueni and Diana even do blogs together and they seem to be a happy couple.
However Diana and mama Mueni have said that the journey has not been easy and it has taken God's grace. Diana will be telling us more on her latest video upload on YouTube.View pictures in App save up to 80% data.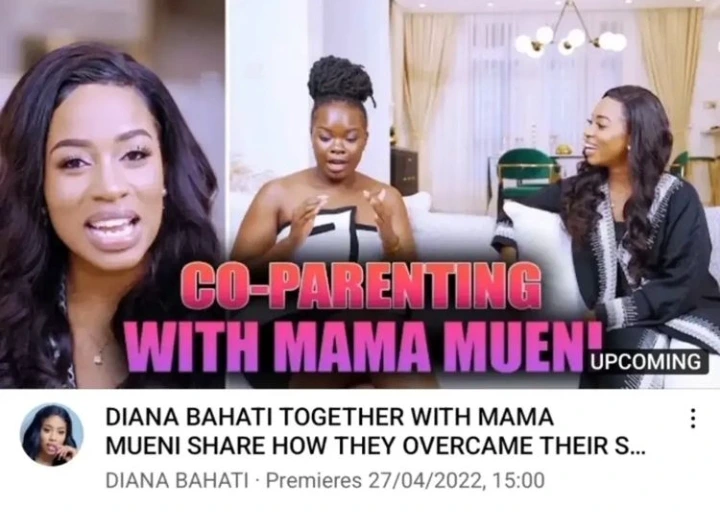 Yvette recently came out to speak about how life was between her, and Bahati shortly after he left her for Diana. Bahati infamously left Yvette Obura who was pregnant with their daughter Mueni, for Diana Marua who had starred as a video vixen in one of his music videos at the time.
However, it was still difficult for Yvette to forgive Bahati after what he did, hence, the relationship between the three celebrities was difficult to say the least. Mama Mueni, as Yvette is commonly called also came clean on her first big conflict with Diana Marua, which was caused by Bahati. The artist had requested Mama Mueni to deliver their daughter to him and Diana.
However, he failed to mention that there would be a photoshoot session which would involve their daughter. Hence, during the session, Diana was pictured alongside Mueni, with Bahati allowing her to post the picture on Social Media, without his baby mama's consent. When Yvette saw her daughter being posted on Social Media without her consent, she confronted Bahati, who ridiculed her asking what kind of mother she was.