Dr. William Samoei Ruto's presidency hits another blow as the list of foreigners allegedly helped Wafula Chebukati to manipulate presidential results are revealed. One week ago IEBC Chairman Wafula Chebukati announced Dr. William Samoei Ruto as the winner of the hotly contested presidential elections.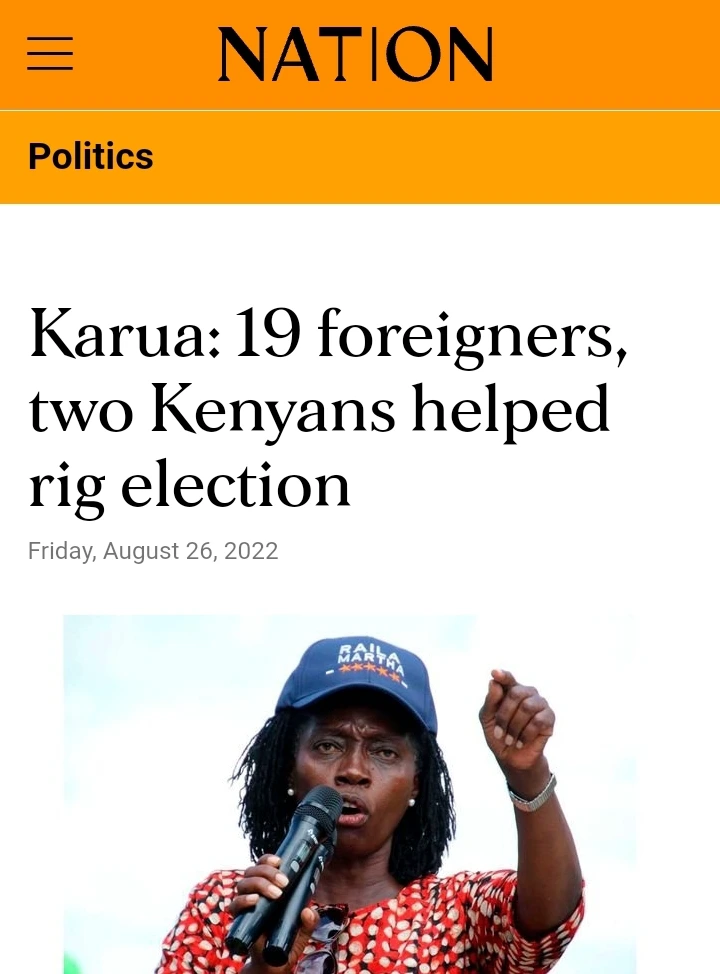 However the move has since been challenged by Hon. Raila and Martha Karua who argued that a team of foreigners, together with IEBC Chairman Mr. Wafula Chebukati helped manipulate the outcome to favour Ruto.
According to the new reports filed before the Supreme Court, rigging of presidential election was done way before the actual day of elections. This was done through 19 foreigners and 2 Kenyans who had full access to electoral body's technology.
The Azimio duo explained that rigging started in March 2022 where the IEBC allowed intrusion of foreigners together with other two Kenyans who tempered with the IEBC system. According to Raila and Martha, the intrusion enabled tempering and manipulation of the Kiem kits data and result. Raila added that through the fake manipulated results, Ruto was declared the winner.
"There was an elaborate and fraudulent premeditated scheme to interfere with and undermine and defeat the integrity, credibility and security of the presidential election. The interference was intended to alter the true results of the presidential election," they alleged.
Raila also claimed that there was a deliberate breach of security of the IEBC items, which led to massive irregularities and manipulation. In a sworn affidavit before the Supreme Court, Martha said that Wafula Chebukati committed 12 offences.
"Mr Chebukati was personally continuously deleting and uploading different result declaration forms—Form 34A, 34B and 34C—even after the declaration of the final 'outcome' on August 15, 2022, as shown by the use of his credentials in the logs of the IEBC portal," Maitha claims.
Raila's running mate also added that forms 34A were being stored elsewhere, deleted and corrected before being re-uploaded in the IEBC portal. Karua stated that police obtained a laptop belonging to United Democratic Alliance party agent Koech Geoffrey Kipngosos.
According to Karua, the laptop had an external share point where forms 34A were being shared after distortion, erased and manipulated. Karua said that Koech's main job was to make sure Ruto wins by all means. Former Gichugu legislator also took a swap at the Venezuelans arrested at the airport behind the manipulation.