From recent reports, Cardi B and Off-set are calling it quits. Their relationship has had its fair share of ups and downs prior to Cardi filing divorce papers. They secretly got married in 2018 and then started dealing with cheating rumors.
Sometime in 2016: Cardi and Offset meet
A lot is not known about how the two met but according to a tweet by Cardi, Off-set was consistent. Cardi said on her Twitter account recapping the night they met. "He really wanted to talk to me."
Feb 2017: Offset appears on Cardi's Instagram
Cardi B and Offset attended the 2017 Super Bowl together. Cardi posted on her Instagram Story about it, referring to Offset as "my friend… you know what I'm saying?" Rumors started flying that the duo was dating.
Feb 2017: Cardi posts a pic of them together with a kissy-face for Valentine's Day, confirming they're together.
The post has since been deleted, but it was a photo of them at the Super Bowl a few weeks earlier. Offset commented with the boyfriend-girlfriend emoji, so clearly they were hooking up by this point.
Aug 2017: Cardi drops a hilariously obvious marriage hint at the VMAs.
While talking to Charlamagne Tha God, Cardi said, "I'm a woman. Every woman, I think, wants to get married and wants to have children. It's never too early to get married now. You know, if you want to propose to me, you can."
Sep 2017: Cardi and Offset get secretly married.
While you were busy obsessing over Bodak Yellow, Cardi was busy getting married in Fulton County, Georgia.
Oct 2017: Offset "proposes" to Cardi onstage—wait, weren't they already married?
Cardi and Offset made headlines with this proposal—but little did we all know they were already married.
Jan. 8, 2018: The couple is rocked by cheating rumors.
Offset was suspected of cheating on Cardi at the beginning of 2018.
Feb 2018: People start speculating that Cardi's pregnant, but she denies it
Cardi posted a video on Instagram and a fan, apropos of nothing, commented, "Is there maybe a Kylie Jenner secret that we need to know about lol Just asking,"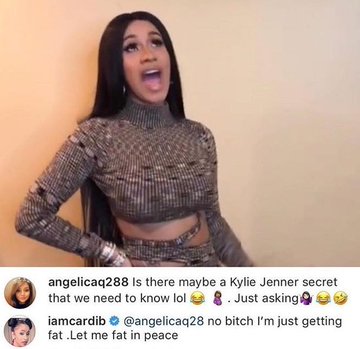 April 2018: Cardi confirms her pregnancy at an SNL performance.
July 2018: Cardi and Offset announce the birth of their baby.
Sept 2018: Cardi shares a never-before-seen photo of the couple's wedding.
Oct. 9, 2018: Cardi confesses that rumors of Offset's infidelity get to her.
In an interview with W magazine, Cardi got real about how the ongoing cheating rumors make her feel.
Oct. 10, 2018: Cardi and Offset attend the American Music Awards together.
Dec. 5, 2018: Cardi announces that she and Offset have split.
Dec. 9, 2018: Offset tweets that he misses Cardi.
Dec. 15, 2018: Offset apologizes on Instagram for being a "selfish, messed up husband" and says he wants Cardi back.
Dec. 16, 2018: Offset ambushes Cardi onstage.
Cardi headlined the Rolling Loud music festival on Dec. 16 and Offset walked onto the stage, with assistants wheeling out a series of signs that said "Take Me Back, Cardi."
Jan. 31, 2019: The couple is reportedly reconciled.
TMZ broke the news once again that Cardi and Offset had formally called their divorce off and gotten back together.
Feb 2019: Cardi and Offset reunite at the Grammys
May 2019: The couple continues their awards show reign.
Sept 2019: The couple celebrates their anniversary on Instagram.
Oct 2019: Offset gives Cardi a pair of diamond rings.
May 2020: Cardi continues to make milestones with Offset in quarantine.
June 2020: Offset and Cardi celebrate Father's Day.
Offset posted a photo of himself and Cardi on August 7:

As of now, the couple still follows each other on Instagram.
Please follow and like us: