The Amani National Congress ANC Party Leader Musalia Mudavadi wants the Kakamega senatorial seat be declared vacant.
Musalia Mudavadi, through his lawyer John Wangai wrote a letter addressed to the Registrar of Political Parties and copied to the Speaker of the Senate Lusaka and the IEBC, quoting Article 37 and 103 of the Constitution 2010 talking about the Leadership, Integrity, Elections Act and the Political Parties Act.
In the Petition, Lawyer Wangai claimed Article 103 provides for the vacation of the office of a member of parliament if, having been elected to parliament as a member of a political party, the member resigns from the party or is deemed to have resigned from the party.
He adds that Section 16(3) of the Elections Act provides that whenever a vacancy occurs in the National Assembly of the Senate, the respective Speaker Shall issue a notice in accordance with Article 101 of the Constitution. Section 4 of the same Act provides that the commission shall within 21 days of receipt of the notice issued under subsection (2), transmit the notice to the relevant returning officer and a by-election shall be held within 90 days of the occurrence of the vacancy in line with Article 101 (4b).
On Friday 26th June 2020, Kakamega Senator Hon Cleophas Mlala was expelled from the ANC Party that sponsored him to parliament for gross misconduct.
In line with this, Wangai argues that as per the law, the registrar of political parties should wring to the speaker of the relevant house to declare the post vacant and have IEBC conduct a by-election within 90 days of the occurrence of the vacancy in line with Article 101 (4b) of the Constitution 2010.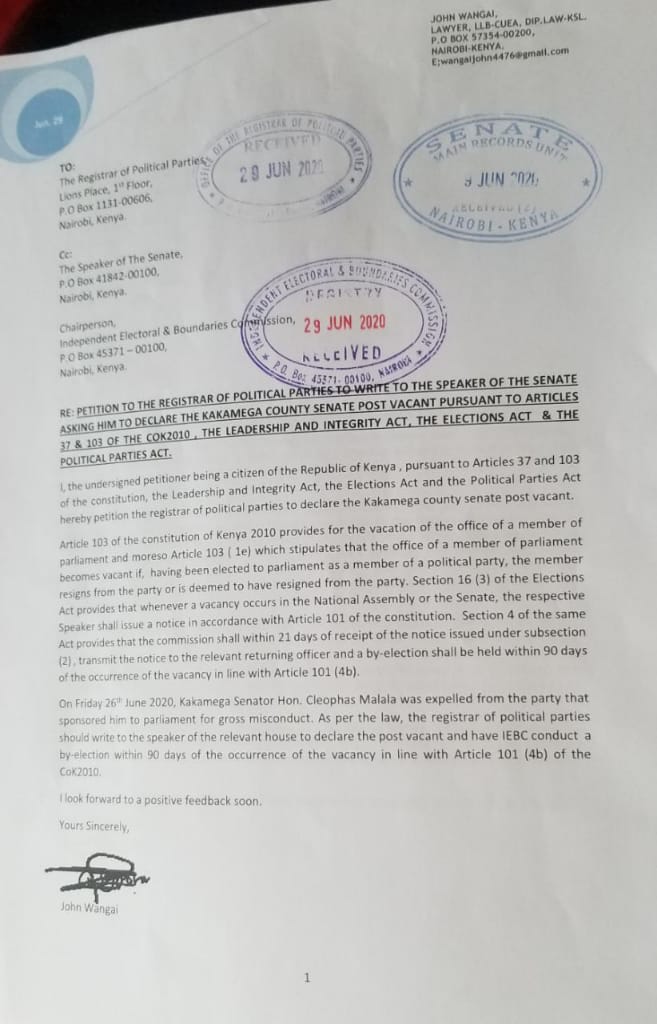 Please follow and like us: